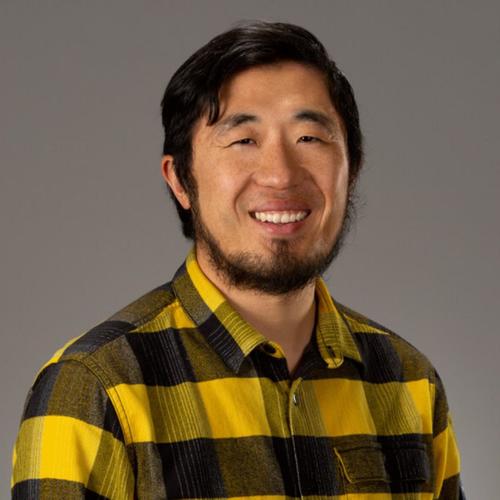 About Me: I'm a disciple of Jesus Christ, a husband of Katie and a dad to three amazing kids: Gentry, Creed & Mari. I'm an extrovert who loves to hangout with people. I've been described as practical, calculated and passionate.
Role on Staff: I serve Lakeside Church in discipling men and women through counseling, pastoral care, preaching, teaching and leadership development. I oversee the church staff and administrate the week-to-week tasks and responsibilities.
Hobbies: I love the great outdoors, primarily waterfowl hunting. I root for the Iowa Hawkeyes and Chicago professional sports teams. I love music, good coffee and spending time with friends.
Favorite Books/Authors: Eugene Peterson, Kevin Vanhoozer, and Wendell Berry
Favorite Movies: Nacho Libre
Favorite Foods/Restaurants: Sushi, a good steak, and fish 'n chips
Children's Ministry Director
About Me: I grew up in Worthington area and married my high school sweetheart, Jeff Beman. We have two girls, Brenda (Joshua) Beman Oberloh and Tammi Beman Landers. I have four grandchildren whom I adore.
Role on Staff: I have worked at Lakeside Church as the Children's Ministry Director since 2010, but I've attended Lakeside Church since 1995. My job here is to oversee the Children's Ministry which includes ages 0 through 5th grade.
Hobbies: I love a good love story and I can be quite crafty. I also am a big fan of whatever my grandchildren and kids are into. So that could include dance, All Day for Africa, swim team, gymnastics and a variety of other fun things thrown in.
Favorite Food/Restaurant: I do love good food wherever it is found, so really that could be anywhere from a good restaurant to you inviting me to your favorite home cooked meal.
About Me: I'm a Minnesota native and grew up in a nearby town where I met and married my husband, Ric. We relocated to Worthington in 1981 and have made it our home where we raised our three children, Lindsay, Andrew, and Alex. Our two oldest, Lindsay and Andrew are raising their families in the Twin Cities while our youngest, Alex and wife, Hannah are expecting their first child and living in Seoul, South Korea. We love to share the latest pics of our 5 awesome grandkids whenever asked. 🙂
Role on Staff: I serve in an administrative role in the Lakeside office which includes bookkeeping, managing the office and auxiliary staff positions. I also manage overall facility maintenance, building reservations, scheduling, and volunteers.
Hobbies: I love to read, garden, cook, travel and spend time with my grand-kids. My husband and I are also dog lovers with a Goldendoodle named Riley.
Favorite Books/Authors: In the past year, a couple of favorite reads and authors are In His Image by Jen Wilken and It's Not Supposed to Be This Way by Lysa Terkeurst. Tim Kellar, C.S. Lewis, and Paul Tripp are also favorite authors.
Favorite Movies: I have many favorite movies and enjoy comedy classics like What About Bob? and Ground Hog Day. I also like a good murder mystery and the latest kid's movies.
Favorite Food/Restaurant: My husband and I love Chevy's in Sioux Falls and a new favorite in Worthington is eating outside (on a nice day) at the Taco Truck.
Executive Administrative Director
About Me: I have been married to Gina for soon to be 43 years. We have three grown children and two granddaughters. I am retired after a 44 year retail management career. I have tried to do my best to honor the Lord in all of those roles.
Hobbies: I have been a lifelong sports fan and enjoy following all the Minnesota teams. I also enjoy reading, biking, and lawn work/gardening with Gina.
Favorite Books/Authors: Two authors I really enjoy are Erik Larson and Joel Rosenberg.
Favorite Movies: Very hard to pick one movie as a favorite. The most recent movie I have thoroughly enjoyed is "Yesterday".
Favorite Food/Restaurant: I enjoy pretty much any food or restaurant but always look for the best BBQ ribs first.
About Me: I was born and raised in various towns in Illinois, spending my formative years in and around Chicago. I moved to Worthington in 2018, after graduating from Moody Bible Institute. I spend most of my time goofing off with my friends and family. I'm grateful that God has given me roles as a disciple, comedian, and fun uncle.
Role on Staff: As Communications Director, I create and manage content on our website, social media platforms, and print media. I also lead worship, help with administrative tasks, create videos, and answer the phone when you call our office.
Hobbies: I enjoy performing stand-up and improv comedy, playing music, watching movies, and writing.
Favorite Books/Authors: Short stories by Flannery O'Connor and JD Salinger
Favorite Movies: Beasts of the Southern Wild, Birdman, and Star Wars
Favorite Food/Restaurant: Asian food
About Me: I grew up on a farm near Harris, IA which prepared me for my occupation as a corn/soybean farmer. As a believer in Jesus Christ our family found Lakeside a positive environment to grow spiritually and serve God.
Ministries: As a member of the Ministry Board it's encouraging to weekly see new people visiting Lakeside and becoming apart of our fellowship. My faith is growing as we face challenges and pray for wisdom and then together rejoice as we see God working in the lives of our church attenders.
Hobbies: Bicycling and being a part of short term mission trips
Favorite Books/Authors: Through Gates of Splendor telling the 1956 missionary story of Jim Elliot and others contacting an unreached tribe in Ecuador
Favorite Food/Restaurant: There isn't much I don't like and it's fun to try new things when we travel, but for everyday fare fresh garden vegetables are the best.
About Me: I am a retiring dentist, after 35 years of practicing. I plan to keep working on a part-time basis for the foreseeable future. I live with my wife Jari Lynne of 41 years. We have a dog and a cat that call our home home. Our three children are grown up and living their own lives. We live on an acreage and enjoy staying home.
Ministries: I am a board member and have been several times through the years. I enjoy serving the Lord in this way and believe the Lord is using the church to reach the planet for himself. I am looking forward to the new heaven and the new earth.
Hobbies: Jari and I love to travel and vacation in Mexico. I am an avid hunter and fishermen. I make custom knives and make maple syrup in the Spring.
Favorite Books/Authors: I enjoy Murder Mysteries by many authors.
Favorite Movies: I have watched Last of the Mohicans and Gladiator multiple times.
Favorite Food/Restaurant: My tastes in foods is varied. I enjoy Mexican, and Chinese, but love your basic steak and potatoes also.